Wild Blueberry Pie
4 c. fresh or frozen blueberries
1 c. sugar
½ tsp. ground cinnamon
2 ¼ T. cornstarch
¼ tsp. lemon juice
1 recipe for a 9" double-pie crust or
2 store-bought unbaked pie crusts
Mix ingredients; put in pie shell. Cover with top crust. Bake at 450 for 15 minutes, then reduce oven temp to 375 for 30 minutes. Let cool. Serve with ice cream.
Fruits of the North Pie
Pastry for single-crust pie (9")
¾ c. sugar
¼ c. cornstarch
2 c. fresh strawberries
1 ½ c. fresh raspberries
2 c. fresh cut rhubarb
1 c. fresh blueberries
1 T. lemon juice
On a lightly floured surface, unroll pastry. Transfer to a 9" pie plate. Trim pastry to ½ inch beyond edge of the plate and flute the edges or decorate as desired. Line the pastry with double layers of heavy-duty foil. Bake at 450 for approximately 7 minutes, remove foil and bake an additional 7 minutes or until golden brown. Cool on a wire rack.
While the pastry is cooking, combine the sugar and cornstarch in a saucepan. Stir in fruit and lemon juice. Cook while stirring occasionally over medium heat until the mixture comes to a boil. Pour over prepared crust. Cool completely. Enjoy with a dollop of whipped cream or ice cream.
Rhubarb Pie
4 c. chopped ripe rhubarb
1 c. white sugar
1/3 c. brown sugar
1 tsp. cinnamon (optional)
6 T. flour
1 T. butter
1 recipe for a 9" double-crust pie
Preheat oven to 450. Combine sugars and flour. Sprinkle ¼ over the crust in the pie plate. Pile the rhubarb over the mixture. Sprinkle with the remaining mixture. Dollop small pieces of butter over the rhubarb sprinkled with sugar. Cover with the top crust and flute edges. Place in the lowest rack in the oven and bake for 15 minutes. Reduce the oven temp to 350 and continue to bake for 40-45 minutes. Serving with ice cream is a must!
Rhubarb Swirl
Crust: 2 c. graham cracker crumbs
½ c. sugar
½ c. melted butter (1 stick)
Filling: ¾ c. sugar
3 c. chopped rhubarb
1 small box strawberry gelatin
1 small box vanilla instant pudding
1½ c. milk
¼ tsp. vanilla
1 carton of cool whip
Mix crust ingredients and press into a 9×13 pan. Set aside. Pour sugar over rhubarb in a sauce pan. Simmer until rhubarb is tender. Remove from heat and add the gelatin mixing until dissolved. Set aside. Prepare the pudding with the milk, vanilla and cool whip. Add to the rhubarb mixture and swirl slightly. Pour into the graham cracker crust and refrigerate until set.
Walleye Cakes
2 T. miracle whip or mayo
1/3 c. chopped red bell peppers
2 chopped green onions
2 tsp. fresh chopped chives
¼ tsp. garlic powder
¼ tsp. fresh oregano
¼ tsp. fresh parsley
dash of cayenne pepper to taste
1 large egg + yolk of 1 egg (lightly beaten)
1 ½ c. Panko bread crumbs
1 lb. cooked walleye (flaked)
½ c. olive oil
Combine all ingredients in a bowl reserving 1/3 c. of the bread crumbs and the oil to fry them in. Divide and make into patties. Place the remaining Panko crumbs on a plate to coat the patties on both sides. Place the olive oil in a fry pan and turn to medium heat. Fry the patties until brown on both sides. Serve as an appetizer or on a bun with lettuce, tomato, pepper jack cheese, and homemade tartar.
Mumsy's Vennie Hamburger Gravy
Brown 1 lb. venison hamburger in a fry pan. Brown ¼ c. flour in the burger and the drippings. Add 1 c. water and 1 c. milk…may need a little more water depending on consistency. Salt and pepper to taste. Serve over mashed potatoes and a veggie on the side for a full meal.
Canned Venison (Pints)-Theresa Johnson's Recipe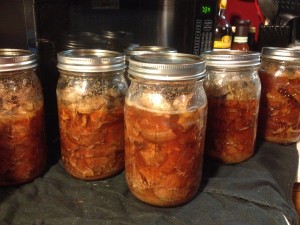 Pack raw venison in jars with chopped onion and ½ tsp. of salt- Do not add water. Make sure rims are clean and dry prior to capping and hand tightening the rims to assure a proper seal. Add 2 quarts of water in the pressure cooker (tip: heat the water without the lid on prior). Carefully add the jars and seal the canner. Wait until the steam vents and the pressure gauge reads 15# of pressure, THEN set your timer for 50 minutes. Please read your canning and pressure cooking manual prior to attempting to can anything: this can be a very dangerous process if not done properly!
Tip: JP and I added a ½ tsp of pepper, ½ tsp. of garlic powder, 1 tsp of Worcestershire and 1/3 of a beef bullion cube to ours for meat with a little more zip!
Walleye Linguine
6-8 filets of walleye, de-boned & cleaned
1 c. Caesar dressing or Ranch dressing
Mrs. Dash Garlic blend
3 Tbsp butter
2 Tbsp minced garlic
1 c. milk
2 Tbsp fresh chopped chives
½ onion, diced
1 Tbsp fresh chopped oregano
¼ c parmesan cheese
½ box of linguine or thin spaghetti noodles
Pre-heat oven to 400 degrees. Boil noodles to directions on box. Lay foil on a cookie sheet. Spray with non-stick cooking spray. Put down some of the Caesar or ranch dressing on the sprayed foil. Lay cleaned walleye filets down in the sauce. Put the remaining sauce over the filets and sprinkle with Mrs. Dash garlic. Put in the over for approximately 10 minutes at 400 degrees or broil for even quicker results (watch carefully if you choose to broil). The walleye filets are done when you can see the filets start to break apart. Meanwhile, put butter in a large skillet and sauté onions and minced garlic for a minute or two tops. Add milk, chives, oregano & drained noodles. Toss to coat until noodles absorb sauce & flavors (add more milk if mixture gets dry). Sprinkle with parmesan cheese and top with walleye for a gourmet up north dinner. Broccoli goes very well with this dish (can be added right in with the noodles or as a side dish)~It adds great color!
Walleye Chowder
6-8 filets of cleaned and de-boned Walleye, cut up in chunks
8 slices of thick cut bacon
1 large onion, chopped
1 stalk of celery, chopped
4 cups of baby red potatoes or hash browns
2 cups of milk
2 cups of chicken broth
1 can of corn
1 red pepper, chopped
1 Tbsp of minced garlic
salt & pepper to taste
dash of cayenne pepper
dash of crushed red pepper
¼ cup of cornstarch in water to thicken
Sauté bacon until crispy. Set aside to crumble on top of soup. Reserve a Tbsp of bacon grease and sauté onions & celery until tender. Add the potatoes & broth & cook potatoes until soft. Add the remaining ingredients except the cornstarch & water mixture & the bacon. Cook the walleye until tender. Do not overcook (& yes, add it raw to the soup, it cooks right in there!). Add the cornstarch & water mixture to thicken to your liking. Sprinkle the crumbled bacon, some cheddar cheese & some fresh cut chives on top to serve.
Jill's Famous Fish Tacos
6-8 Walleye Filets, cleaned & de-boned, cut up in chunks
Mice Batter (found only at Hunter's Point Resort, MN)
Corn Tortillas
Cabbage mix
White Sauce- equal parts mayo & sour cream, 4-5 dashes tapatio sauce& garlic powder.
Green Sauce- Mrs. Renfros Green Sauce
Lightly coat the walleye with the Mice batter. In two separate pans, heat up some vegetable oil to fry the fish & the corn tortillas in. When oil is hot & ready, fry the fish until lightly golden on each side. Cook the corn tortillas in the other oil quickly on each side. Lay tortillas down on paper towels to soak up excess oil. Put 1 filet of cooked walleye in each tortilla. Add a tsp of white sauce & a tsp of green sauce & top with some cabbage mix. Dyno-mite!
Rick's Walleye Soup
6-8 Walleye filets, cleaned and de-boned
4 cups of Zucchini skinned, chopped
2 Tbsp butter
1 can of Rotelle diced tomatoes
1 can of corn
½ onion, chopped
garlic, salt & pepper to taste
Sauté chopped zucchini & onion in butter in a large sauce pan until tender. Add can of Rotelle tomatoes, can of corn and add raw, cut up walleye and cook on medium heat until walleye tender. Add some garlic powder, salt & pepper to taste. Nice healthy soup!
Maple Bacon Wrapped Duck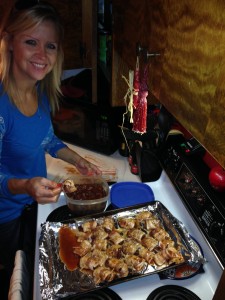 Marinate the cleaned duck in a mixture of a ½ cup of orange juice, 2 Tbsp of orange rind, a few dashes of Worcestershire sauce, a couple spoons full of orange marmalade, French dressing, BBQ sauce, and Italian dressing, and ¼ cup of brown sugar. Marinate for a few hours or over night preferably. Wrap in maple bacon & secure with a toothpick. Lay on a cooking sheet lined with foil for easier clean up. Cook in the oven at 400 degrees until the bacon gets crispy, flipping at least once. Wonderful on the grill also, but must be watched carefully (bacon drippings cause the grill to flame up and char things quickly). These are killer!!
Smoked Lake Trout Dip
1 8 oz package of Cream Cheese, softened
3/4 cup of Top the tater sour cream
1 Tbsp finely chopped onion
1 Tbsp chopped fresh chives
1 Tbsp chopped fresh parsley
1 tsp lemon juice
¼ tsp liquid smoke
Couple dashes of dill weed, cayenne pepper, black pepper & garlic powder
In a larger bowl, mix all ingredients but the lake trout together and beat with a mixer until smooth. Stir the lake trout in last and chill. Serve with crackers.
Bear Stroganoff
2- 3 lbs of cut up bear meat
Onion soup mix
Worcestershire sauce
Beef bullion cubes
Cut up onions, in slices
First of all marinate the bear meat over night in a mixture of French dressing, thousand island dressing, Worcestershire sauce, BBQ sauce, lemon juice, liquid smoke, and brown sugar. Once soaked in, sauté the bear meat in a large skillet and brown on each side. (Now hang in there, I thought I was going to barf at this point..quite gamey smelling!) Toss in a crock pot with 3 cups of water with 2 beef bullion cubes, a few dashes of Worcestershire sauce, and sprinkle with onion soup mix. Lay onion slices on top and cook on low heat for 6 hours or over night. Pulls apart and tastes like beef roast by morning! Add to your favorite stroganoff recipe and they'll never know its bear.
EZ Oven or Grilled Walleye
Walleye filets, cleaned & de-boned
Ranch dressing
Mrs. Dash Garlic seasoning
Shredded Cheese
Sour Cream & Onion Chips (Dill Pickle good too), crushed
Turn your oven to broil or turn on your grill. Put a layer of tin foil down on a cookie sheet and spray with non-stick cooking spray. Drizzle ranch dressing on foil. Lay walleye filets in dressing. Drizzle a little more dressing on the top of the filets. Sprinkle with Mrs. Dash Garlic, or Mrs. Dash lemon pepper is awesome too. Toss in oven and watch closely (takes maybe 5 minutes). When you see the walleye filet start to break apart without touching it, they are done. All of the filet will be white, no transparency look to them. Pull out of oven and sprinkle filets with cheese & allow to melt (may want to add back into the oven for 1 minute with broiler turned off). Remove and plate the filets. Add crushed chips on top for added flavor, texture & color.
For the grill, put another layer of foil over the top and seal all edges. Toss on the grill for 5 to 8 minutes, depending upon grill. Cut a slit in the top to check the doneness of the filets. If the fish is done, shut the grill off and add the cheese to melt it. Remove and plate the filets. Add crushed chips for flavor and texture. Love the clean up on this one!