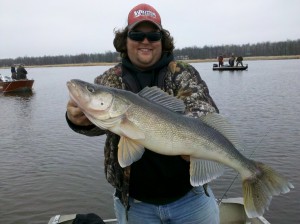 Growing up as a United States Air Force brat in Grand Forks, ND, Wiggles was introduced to Lake of the Woods at a young age by his Uncle, who was the host for many Lake of the Woods family-fishing excursions. After his father retired from the Air Force the family relocated to God's Country, Baudette, MN in Lake of the Woods County in 1996. While growing up on the south side of Lake of the Woods, many fishing and hunting opportunities presented themselves and Wiggles always took full advantage of every opportunity to find the water and the woods.
After successfully maneuvering his way through the Lake of the Woods school system, he attended and completed his associates degree from Northland Community and Technical College. In 2006 Wiggles was accepted to attend Bemidji State University. In 2008 he graduated with his Bachelors of Science in Business Administration and Sports/Recreational MGMT from the home of the Beavers.
After graduation there was only ONE place he wanted to be, and that was back on the big body of water, which we all know as the Walleye Capital of the World. Since his return to Lake of the Woods he has been guiding for numerous resorts in the area, but now calls the Sunset Lodge, home. With a love of the water and the woods, guiding was a perfect fit for this natural outdoorsman.
Wiggles says that the best part of his job is when a guest on his boat gets a personal best, whether it be a Walleye, Sturgeon, Perch, Eel Pout or even one of his favorite species those slimy Northern Pike. Wiggles also says and I quote, "Nothing beats a day on the water chatting the day away catching those Walleyes"…enough said!
To contact Shane Burk about his unique Lake of the Woods guide service, please call (218) 766-5598, or e-mail [email protected]