Ontario and Minnesota Fishing
The Walleyes rule Lake of the Woods, but there are more than just Walleyes wondering in our playground. Depending on the time of season each one of the following can be targeted: Crappie (Fall), Musky (Summer – Fall), Small Mouth Bass (Spring – Summer – Fall), Lake Trout (Spring – Summer – Fall). For these exclusive trips, please contact us directly and we will discuss the options available and paperwork needed to comply with all government regulations.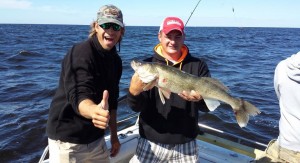 Summer fishing typically begins the last week of May and runs through the end of August. The Walleyes are typically pretty hungry after their yearly reproductive journey to spawn, and they are filling their bellies on their favorite snack, the Emerald Shiners.
Summer time is a great opportunity to enjoy the tremendous tasting Walleye on a fantastic shore lunch experience. This is a must for anyone looking to savor his or her catch of day while up on "The Walleye Capital of the World."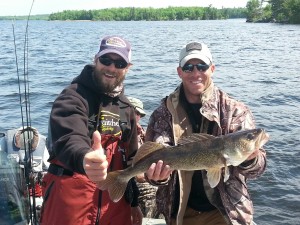 Be sure to be aware of your weather forecasts and surroundings when fishing the big body of water. Storms can come quickly and the waves can be become consuming in a very short period of time. If you don't have the right boat, the right equipment, or the experience of fishing big bodies of water, please consult a professional at one of the many Lake of the Woods resorts in the area before you venture out on your own.
Guided Fishing Trip – $700
Possession Limit:
Minnesota Limit – 6 Fish, only 4 can be Walleye (Slot Walleyes must be returned to the lake 19-1/2″ – 28″). (Combination of Walleye and Sauger)
Ontario Limit – (Sport Fishing License) 2 Walleyes per day, 4 total in possession (1 over 18″ only).  (Conservation License) 2 Walleyes per day, 2 total in possession. (1 over 18″ only).
All guided fishing trip prices are per 8 hours and for 2-3 people. All guided fishing trips will include the guide, fishing equipment, bait and fish cleaning.
To check availabilities or make a reservation please contact Jean-Paul Tessier at 218-280-9731 or you can email him at [email protected]