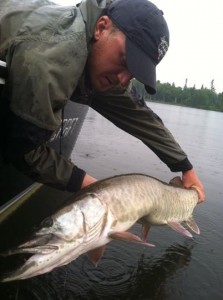 Dave grew up on a dairy farm in northwestern Wisconsin just south of Hayward. He is the youngest of 4 boys and was given a lot of the grunt work, but throughout those lessons learned he honed his fishing and hunting skills throughout his younger years. From the day he arrived home from the hospital as a newborn, he was in a boat or in the barn, and that just might have something to do with his ability to lead you to fish and game only by smell.
The Rabbit started guiding Elk hunts in Colorado when he was 22 years old in 2004. He migrated to Lake of the Woods in December of 2005 when he was looking for challenging adventure in God's Country, and has been a cornerstone in our great community ever since. Dave has his Canadian Work Visa and is able to guide not only in Minnesota, but also on the Canadian side of Lake of the Woods, in the islands. Dave has guided fishermen on Lake of the Woods for Walleye, Perch, Crappie, Musky, Sturgeon, Northern Pike, Small Mouth Bass and Lake Trout. He also guides durning the hunting seasons for waterfowl, both out of the south and north ends of Lake of the Woods respectively, for Ducks and Geese.
Dave "Rabbit" Winters is an extraordinary outdoorsman that appreciates everything our tremendous fishery and area provides. Fishing and hunting are in his blood and you'll be able to pick up on that when you get the distinguished opportunity to have him guide you for the day.
To contact Dave Winters about his unique Lake of the Woods guide service, please call (715) 563-0007, or e-mail [email protected]