25% Discount for all Military Veterans
As the season changes and most hunker down, this is when our community erupts into an exciting winter wonderland. Lake of the Woods is known all around the ice fishing community as the world's best hard water fishery. With that said, the popularity of our ice fishing destination has grown exponentially over the past few decades. With portable and permanent fish houses, snowmobiles, plowed roads, and track vehicles, Lake of the Woods has never been easier to access and enjoy during our winter months. Just as the fish move in the summer, so do they move in the winter and it is up to this great fishing community to stay on top of the fish. The Walleyes move out deeper and deeper throughout the ice fishing season, so the earlier you get here, typically the shorter distance you will have to travel to find your limit. If fishing on your own, please contact the local resorts to find out travel conditions on the lake.
The Sleeper Ice Houses will be accessible from Adrian's ice road, which leads to Bayview Lodge's ice road. This is where I'll be working with my good friend, Ryan Donet of Bayview Lodge. Adrian's road has been a well run and maintained ice road for many years on the Worlds Best Hard Water Fishery, and it's tough to find someone that's been to Lake of the Woods in the winter that hasn't heard of this legendary ice road. Bayview Lodge has a history of finding the fish, and a lot of that has to do with Mr. Donet and his abundant experience on our tremendous fishery. It is my honor and privilege to be working with both of these long standing and fabulous resorts. So with that I say, bring on the ice fishing, it's Lake of the Woods baby, Lake of the Woods…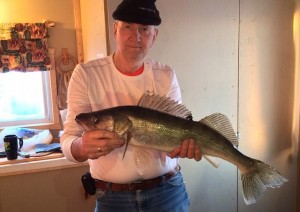 Ice Fishing Packages
(All prices are Per Person)
3 Nights and 2 Days
Midweek Special- Monday to Wednesday
Price Reduced – $250 Tax Included
Weekend – Thursday to Sunday
$325 Tax Included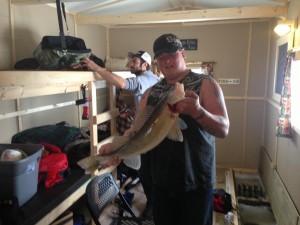 2 Nights and 2 Days
Midweek Special- Monday to Wednesday
Price Reduced – $225 Tax Included
Weekend – Thursday to Sunday
$300 Tax Included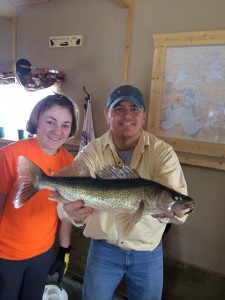 The Lake of the Woods Outdoorsman will customize any package to your request.
You must provide your own fishing equipment, bait, food, drink, license, pillow and sleeping bag. The most important, don't forget your Vexilars, MarCums, Hummingbirds, or whatever ice fishing technology you use, because you'll need it.
The 4 (4-man) sleeper ice houses are ready. They will be accessible via Adrian's and Bayview's ice road respectively. Use our sleeper cabin as your Base Camp with your sleds, wheelers and portables. Then let me and my friends guide you in our backyard, off the beaten path.
Possession Limits: 6 Fish, only 4 can be Walleye. (Combination of Walleye and Sauger)
To check availabilities or make a reservation please contact Jean-Paul Tessier at 218-280-9731 or you can email him at [email protected]